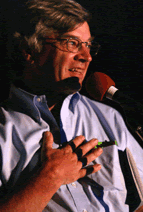 Bob Jones, a past Vice President under FPI, has been involved in most of the major events produced by FPI over the past 30 years. These included,The Newport Folk and Jazz Festivals, The Freihofer Jazz Festival in Saratoga Springs,NY, The New Orleans Jazz & Heritage Festival, The Essence Music Festival and The Kool Jazz Festivals. His current role is involved assisting many of the new staff of Festival Network in the planning and producing of the current events and the formulation of new festivals.
In the late 50s and early 60s, Jones was a guitarist/vocalist actively pursuing a career in the world of folk music in Boston and Cambridge, Massachusetts. He recorded for Vanguard Records during this period.Since 1963, Bob Jones has been involved with the world famous Newport Folk Festival. In the early years of the festival he worked closely with Ralph Rinzler, of the Smithsonian Institute, cultivating the use of traditional talent at the festival and unearthing these artists from various locations throughout the United States. By 1964, Jones joined the actual operation of the Newport Folk Festival and in 1965, he accepted a position at Festival Productions.
Shortly thereafter he toured with Duke Ellington, Thelonious Monk, Count Basie, Buddy Rich, Sarah Vaughan, Archie Shepp, and Cannonball Adderley throughout Western and Eastern Europe, Asia, Southeast Africa, India and Australia, coordinating all of the technical and business aspects of those major itineraries. Bob Jones was also a participant in all of the New Orleans Jazz and Heritage Festivals since its inception, first with George Wein in the formation and structure of that festival and later as a staff member over the years.
After his marriage in 1970, Bob Jones worked in Paris, establishing the Festival Productions Office there during the years of 1970 and 1971. Later, he toured again with Duke Ellingtons Orchestra and with the New York Jazz Repertory Company in many stints for the U.S. Information Agency, visiting the U.S.S.R.; Asia, Eastern and Western Europe. He also supervised performances by Duke Ellington Orchestra for the Sacred Concert at Westminster Abbey as well as the Royal Performance for the Emperor of Ethiopia.