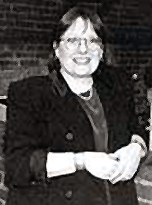 Millie Rahn is a folklorist specializing in documenting living cultural traditions and providing technical assistance to cultural and educational organizations. She has written and spoken extensively about the '60s folk revival. She serves as folklorist/archivist for the NEWFA, as well as folklorist for the Lowell Folk Festival and other regional festivals; and is adjunct faculty in heritage studies at Plymouth State University in New Hampshire .
Her publications include the chapter about the '60s revival in American Popular Music: A 20 th -Century History (U of Massachusetts Press, 2001); essays on the Newport Folk Festival and the folk revival in the Encyclopedia of New England (Yale U Press, 2005); the chapter on Cambridge, Club 47, and the folk revival in the centennial history of the Cambridge [Mass.] Historical Society, 2007; the bibliography in Transforming Tradition: Folk Music Revivals Examined (U of Illinois Press, 1993); and articles and reviews for the Journal of American Folklore , the Newport Folk Festival programs, the New England Folk Almanac , and other publications. In 1995 she co-produced Follow Me Down: A Folk Reunion , a performance-documentary about Club 47, for WGBH-TV in Boston , and was a co-producer of the Club 47/Club Passim 50 th anniversary Hoot events (and DVD) in January 2008.
She holds an M.A. degree in folklore from The Memorial University of Newfoundland, where she worked part-time in the university's Folklore and Language Archives; and a B.A. degree in American Studies from the University of Maryland at Baltimore County . In 1995 she was awarded a National Endowment for the Arts fellowship to help plan sustainable folk arts programming policy.