Boston Mayor Marty Walsh Proclaimed February 28th
Betsy Siggins Day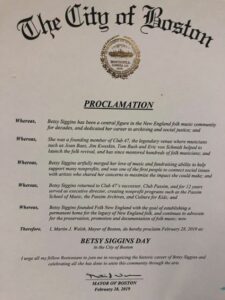 The Wang Theatre's Folk, Americana and Roots Hall of Fame featured a presentation from Mayor Walsh's office proclaiming yesterday "Betsy Siggins Day" in the city of Boston.
The event not only honored Betsy as the founder of Folk New England and godmother of our folk traditions, but also featured performances by Paul Stookey, Peter Yarrow, Livingston Taylor, and The Mammals.
Tom Curren brought down a display of FNE artifacts for the evening, including a few Club 47 calendar reproductions; prints of photographs (Charles River Valley Boys; Jim Rooney, Bob Siggins, and Roscoe Holcomb) at the old Club 47; the Broadside cover of Betsy and Bob's wedding portrait, and a shot of Betsy sitting with Mimi Farina at the Newport Folk Festival.