Please click the yellow "Donate" button to help, thanks!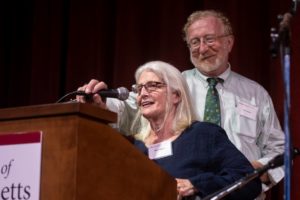 Betsy Siggins and Tom Curren at U Mass Amherst
We are writing today to ask your support of our work to remember, to honor, and to keep alive the folk music heritage of New England. Our collections embrace some of the oldest musical traditions in the nation, in the region where harmony and hard work served to bring people together before fear and conflict began to divide them. It was here, in seacoast, forest, and village that local native chants, fiddle tunes and ballads from Europe, and African work songs up from the Caribbean first began to come together. It was here that a blend of these influences began to create the body of American song that later travelled westward and southward across the continent.
And it was here, in the late 1950s and 1960s, that traditional American music became the focal point for young people who began to envision "a better world" and then set out, somehow, to make that vision a reality. In small clubs and coffeehouses, in dormitory rooms, and at gatherings and festivals from Orono to Amherst and from Burlington to Newport, young people began to question the assumptions of the modern era and to seek both inspiration and community in homespun songs of our heritage.
The rest, as they say, is history, but it is a history that is not well-known outside of a relatively small circle of friends who remember it, who honor it, and who are grateful for the role that music and ideals have played in all of our lives. Folk New England is keeping the lamp of this traditional music trimmed and burning, beginning with a core collection of recordings, photographs, and publications from the Boston-Cambridge folk revival of the 1960s. Through collaboration with the Special Collections Department of the W.E.B. Dubois Library at the University of Massachusetts, these materials are now being permanently archived in Amherst, where they will be digitized and, wherever possible, made available for study and enjoyment.
And this is the part where, together, we can put the "carry" in "carry it on." Your gift to Folk New England will make it possible for us to continue to collect, digitize, and preserve this powerful music. Our work is not done; this music needs to be passed along to young people today in a world that needs its power and inspiration at least as much as it did years ago.
Thank you for your consideration of our mission, and best wishes for the holidays and the year to come,
     Betsy Siggins         Tom Curren            Brian Quinn
Photo:
Folk New England Founder Betsy Siggins and FNE Chair Tom Curren at a revival concert at U Mass Amherst to celebrate the donation of the Folk New England Collection to Special Collections and University Archives.