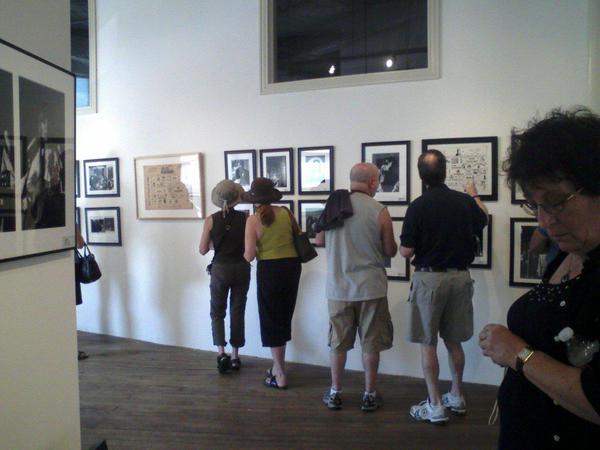 Presents photographs and graphic memorabilia from the folk revival of the 1960s to the mid-2000s, crossing the generations. Music posters, album art, unique event calendars and photographs bear witness to some of New England folk music's most important cultural moments.
The exhibition features the works of photographic artists of the folk scene, including Dick Waterman's pictures of blues musicians; Boston's long-time editorial and arts photographer Don West's images; Bob Morey's mostly unseen work from 1967 ; and John Byrne Cooke's dramatic photographs of 1960s musical luminaries, from Bob Dylan to Mississippi John Hurt, more contemporary work from Barry Schneier, Melissa Bugg and Neale Eckstein are also included. The exhibition often features the work of guest contributors.
In addition to display the exhibition the traveling multi-media "Steamer Trunk" which presents audio interviews, video presentation and hands on discovery surprises.
Along with the gallery suitable display FOREVER YOUNG also includes public oral history events and live concerts whenever possible.
Our recent exhibition at The Putney School in Putney VT, which featured a residency by Tim Ericson and concerts that headlined Rory Block and Judy Collins was reviewed by the students … this is some of what they had to say….
"I enjoyed many of the photographs in the archives. I am not really a folk music fan. I liked the photographs of Bob Dylan and Joan Baez though. The archives for me seem like a window into the folk music world and its past. …. I feel the black and white photos reveal more about their subjects…. it gives us a small glimpse into their lives"
"… The pictures show me the folk music, 60's, hippie world. I've always wondered that. Seeing these pictures made me actually want to be there…"
"This show is an exciting look into the folk music world. Seeing big names and people I've never heard of next to each other was very interesting….:"
"From Joni Mitchell to Muddy Waters, it was such an inspiration to see great pictures of them doing what they love"
"Because I'm an international student, I really don't know anything about American Folk Music. However I think its amazing that Americans are keeping their folk music culture…… My favorite photo is the "The Chambers Brothers" I can see that the people who are singing are really enjoying it… "
"The exhibit made me sad that I wasn't alive in the era most were taken, They represent the power that music has to bring people together."
"Folk Music isn't really my passion, however these photographs and descriptions about the artists are very intriguing."
Itinerary of select dates:
The Narrow Center for The Arts, Fall River MA – September 2011
Rothman's Gallery, Southold NY , May – June 2011
Cotuit Center for the Arts, Cotuit MA – March 2011
Café 939 at The Berklee College of Music, Boston MA – March 2011
The Michael Currier Gallery, The Putney School , Putney VT – December 2010
Harvard Square , Cambridge MA 2009 & 2010 – Folk Music History Month
Newport Folk Festival, Newport RI – 2009 & 2010
Me and Thee Coffeehouse, Marblehead MA – April 2010
The Cultural Center of Cape Cod , Yarmouth MA – March 2010