Apr
29
Sat
Betsy Siggins Discusses Joan Baez

@ Woody Guthrie Center
Apr 29 @ 2:15 pm – 3:30 pm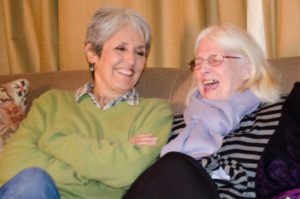 APRIL 29 – WGC THEATER PROGRAMS
10:30 AM – David Amram and Joy Harjo – "Kerouac, Woody and Their Embrace of America" Oklahoma Indigenous Studies Alliance
11:45 AM – Conversation with Nora Guthrie
1:00 PM – Eric Andersen performance
2:15 PM – Betsy Siggins discusses Joan Baez
3:30 PM – Bob Merlis program
Betsy Siggins Schmidt – BETSY SIGGINS has been a central figure in the Cambridge folk music community since she happened upon the local coffeehouse scene as a college freshman in 1958. Betsy was a founding member of Club 47, the legendary venue where musicians such as Joan Baez, Jim Kweskin, and Eric von Schmidt helped to launch the folk revival. Club 47 remained the center of activity in folk music for nearly a decade. Betsy witnessed firsthand the infamous evening concert at Newport 1965, where her friend Bob Dylan went electric. She was there when photographer Dick Waterman rediscovered and brought to the North blues performers Son House and Mississippi John Hurt. Music journalist Robert Shelton corresponded frequently with Betsy in order to write New York updates on the Cambridge scene.
Oct
28
Sat
An Evening With Geoff Muldaur

@ A House Concert
Oct 28 @ 8:00 pm – 10:00 pm
An Intimate Evening With Geoff Muldaur To Benefit Folk New England
(Address will be available at check out)
Geoff Muldaur is one of the great voices and musical forces to emerge from the folk, blues and folk-rock scenes centered in Cambridge, MA and Woodstock, NY. During the 1960's and '70's, Geoff made a series of highly influential recordings as a founding member of the Jim Kweskin Jug Band and the Paul Butterfield's Better Days group, as well as collaborations with then-wife Maria and other notables (Bonnie Raitt, Eric Von Schmidt, Jerry Garcia, etc.)
With his magical voice and singular approach to American music in tact, Geoff is once again touring the world. He performs in concert halls, performance spaces, clubs and festivals througout the US, Canada, Japan and Europe. Geoff may be heard from time to time as a guest on Garrison Keillor's A Prairie Home Companion and has been featured on a variety of National Public Radio shows, including Weekend Edition, All Things Considered, Fresh Air with Terry Gross, and The World with Lisa Mullins.
Nov
15
Wed
"FESTIVAL" – Newport: 1963-1966

@ The Regent Theatre
Nov 15 @ 7:30 pm – 9:30 pm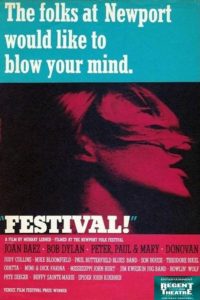 Before Woodstock and Monterey Pop, there was FESTIVAL. From 1963 to 1966, Murray Lerner (American documentary and experimental film director and producer) visited the annual Newport Folk Festival to document a thriving, idealistic musical movement as it reached its peak as a popular phenomenon. Joan Baez, Bob Dylan, Howlin' Wolf, Johnny Cash, The Staples Singers, Pete Seeger, Son House, & Peter, Paul and Mary were just a few of the legends who shared the stage at Newport, treating audiences to a range of folk music that encompassed the genre's roots in blues, country, and gospel as well as its newer flirtations with rock 'n' roll.
Shooting in gorgeous black and white, Lerner juxtaposes performances with snapshot interviews with artists and their fans, weaving footage from four years of the festival into an intimate record of a pivotal time in music—and in American culture at large.
– New, restored 2K digital transfer, approved by director Murray Lerner
– New reconstruction and remastering of the monaural soundtrack using the original concert and field recordings, approved by Lerner and presented uncompressed
– Selection of complete outtake performances, including Clarence Ashley, Horton Barker, Johnny Cash, John Lee Hooker, and Odetta