Nov
16
Wed
The Cambridge Forum: The Legacy and Future of Folk Music

@ First Parish Cambridge Unitarian Universalist
Nov 16 @ 10:00 pm – 11:00 pm
FOREVER YOUNG LOOKING FORWARD, LOOKING BACK..
CAMBRIDGE FORUM CELEBRATES THE LEGACY AND FUTURE OF FOLK MUSIC AT 50.
Join us on NOVEMBER 16 at 7 PM in the Barn Room, First Parish at 3 Church Street in Cambridge. To help jog our memories Betsy Siggins, raconteur extraordinaire, will refresh our knowledge of the early days she spent in Cambridge with Joan Baez and Bob Dylan in the 60's. Folklorist Millie Rahn will moderate the conversation, which will be interspersed with live music from musician and songwriter, Jake Armerding.
In the early days, Club 47 was the place to play for folk musicians in the Boston area and all the greats performed there including
Baez, Dylan and Muddy Waters. The Harvard Square space eventually morphed into today's Club Passim, which has given rise to some of the top musicians in the folk world, like Shawn Colvin and Suzanne Vega. The music scene has changed greatly over the past 50 years. But Cambridge and Club Passim continue to turn out fresh and exciting talent that reflect many of the influentials trends in today's evolving music world.
In the tradition of the Club '47 legends, musician Jake Armerding embodies the consummate hard-working troubadour. He hails from a Massachusetts family of musicians where he honed his songwriting skills, while also becoming an accomplished violin, mandolin and guitar player. Jake will perform some of his own songs throughout the evening in addition to some classic gems from the Dylan days. Come and enjoy!
Apr
29
Sat
Betsy Siggins Discusses Joan Baez

@ Woody Guthrie Center
Apr 29 @ 2:15 pm – 3:30 pm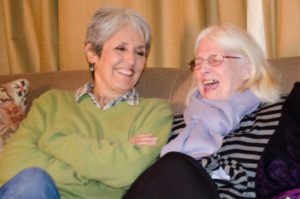 APRIL 29 – WGC THEATER PROGRAMS
10:30 AM – David Amram and Joy Harjo – "Kerouac, Woody and Their Embrace of America" Oklahoma Indigenous Studies Alliance
11:45 AM – Conversation with Nora Guthrie
1:00 PM – Eric Andersen performance
2:15 PM – Betsy Siggins discusses Joan Baez
3:30 PM – Bob Merlis program
Betsy Siggins Schmidt – BETSY SIGGINS has been a central figure in the Cambridge folk music community since she happened upon the local coffeehouse scene as a college freshman in 1958. Betsy was a founding member of Club 47, the legendary venue where musicians such as Joan Baez, Jim Kweskin, and Eric von Schmidt helped to launch the folk revival. Club 47 remained the center of activity in folk music for nearly a decade. Betsy witnessed firsthand the infamous evening concert at Newport 1965, where her friend Bob Dylan went electric. She was there when photographer Dick Waterman rediscovered and brought to the North blues performers Son House and Mississippi John Hurt. Music journalist Robert Shelton corresponded frequently with Betsy in order to write New York updates on the Cambridge scene.