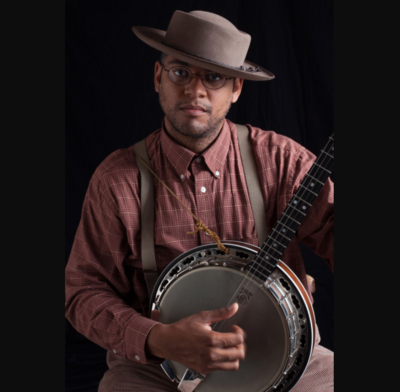 Dom Flemons is the "American Songster," pulling from traditions of old-time folk music to create new sounds. Having performed music professionally since 2005, he has played live for over one million people just within the past three years.
Born and raised in Phoenix, Arizona, Dom Flemons has immersed himself in music of the past, with a prodigious record collection and an immense knowledge of the different playing styles of the blues, country, and string band traditions.A multi-instrumentalist, Dom plays banjo, guitar, harmonica, fife, bones, bass drum, snare drum and quills, in addition to singing. He says that he incorporates his background in percussion to his banjo playing. Dom's banjo repertoire includes not only clawhammer but also tenor and three-finger styles of playing. He first picked up the instrument when he borrowed a five-string banjo from a friend who had removed the instrument's fifth string. As a founding member of the Carolina Chocolate Drops, an African-American string band, Dom was able to explore his interest in bringing traditional music to new audiences. The band won a GRAMMY for its 2011 album Genuine Negro Jig and was nominated for its most recent album, Leaving Eden, in 2012.
Dom says he would like to use the traditional forms of music he has heard and immersed himself in over the years to create new soundscapes that generate interest in old-time folk music. Focusing very much on creating music that is rooted in history but taking a contemporary approach, Dom hopes to reexamine what traditional music can become.